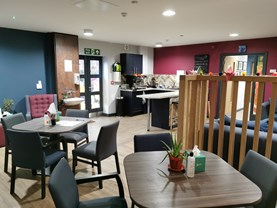 Compañeros crisis café is a safe space in the heart of Birkenhead for people who are struggling with emotional and psychological distress, and who consider themselves to be in a self-defined crisis. The facility is hosted by professionals, volunteers, peers, and includes people with lived experience.
The café offers a non-clinical, alternative to the traditional pathway for people who need help and support within a community setting. Compañeros provides a safe and calming environment, with access to one-to-one crisis intervention, wellbeing recovery projects, creative arts, and other essential social and emotional support.
Compañeros crisis café is open to people aged 18 and over.
To access Compañeros crisis café, you can self-refer into the service by turning up on the day, or you can be referred by a health or social care professional, family member, or carer.
Compañeros crisis café is open from 10.00am-10.00pm, every day of the week, but last entry is at 8.30pm each day.