Cheshire and Wirral Partnership NHS Foundation Trust (CWP) is proud to announce its exceptional achievement in being shortlisted for eight prestigious awards at this year's Patient Experience Network Awards (PENNA).
These awards celebrate excellence and innovation in patient experience within the healthcare and social care sectors. CWP's nominations span a range of categories, showcasing the organisation's dedication to enhancing patient engagement, feedback, and collaboration.
The categories in which CWP has been shortlisted include:
Ask Listen Do project (from the Learning Disability, Neurodevelopmental and Acquired Brain Injury Care Group):

Measuring, reporting and acting category

Patient and Carer Experience Team:

Team of the Year category

Mental Health Intensive Support Team:

Measuring, reporting and acting category

Team of the Year category

Lead Provider Collaboratives, EmpowerED Adult Eating Disorders, North West, and Level Up, Cheshire and Merseyside, Young People and Families:

Commissioning for Patient Experience category,

Engaging and Championing the Public category,

Partnership Working category

Using Insight for Improvement category.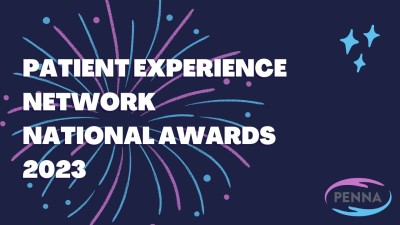 Tim Welch, chief executive, CWP, said: "We are truly honoured to be shortlisted for these awards, which stand as a testament to our unwavering commitment to enhancing patient experience and driving excellence in healthcare.
"This recognition reflects the dedication and hard work of our team, as well as our determination to continually improve patient care and engagement. At CWP, we value the insights and experiences of our patients and their families, and we are dedicated to fostering a culture of collaboration and inclusion.
"Our aim is to make a meaningful impact on the lives of those we serve, and this recognition further inspires us to continue our journey of innovation and person-centred care."
CWP's commitment to patient experience extends to their "Ask Listen Do" initiative, which has introduced a Lived Experience Feedback Role to further involve individuals using their services, along with their families, friends, and caregivers. This initiative builds upon the foundation of a volunteer feedback role developed during the Covid-19 pandemic, reinforcing CWP's dedication to engagement and participation throughout their practices. The Lived Experience Feedback Role has demonstrated remarkable enhancements in both the quantity and quality of feedback collected through innovative and timely approaches. It ensures that received feedback informs and enhances service delivery, experiences, and outcomes for individuals.
The Patient and Carer Experience (PACE) Team within CWP plays a pivotal role in promoting exceptional patient care. This team empowers individuals with lived experience to contribute meaningfully to the development and delivery of CWP services. Their efforts encompass patient experience areas, including Patient Advice and Liaison services, Equality Diversity and Inclusion initiatives, and awareness-raising projects. The team's accomplishments include initiatives like the NHS Rainbow Pin Badges and raising awareness during Pride, Black History Month, and Disability History Month. The PACE Team also successfully implements Peer Support initiatives, creating pathways from unpaid volunteering roles to paid worker positions and providing training, support, and supervision.
The Mental Health Intensive Support Team (MHIST) at CWP specialises in assisting vulnerable patients as they transition from inpatient units back to community settings. The team's person-centered, values-driven approach is co-produced with stakeholders, including those with lived experience, to ensure the service remains aligned with community needs. MHIST's nominations in both the "Measuring, Reporting and Acting" and "Team of the Year" categories at the PENNA awards highlight their dedication to enhancing patient experience and outcomes.
CWP's transformative Lead Provider Collaboratives (LPCs), EmpowerED, Adult Eating Disorders Provider Collaborative, North West, and Level Up, Cheshire and Merseyside, Young People and Families Provider Collaborative have been recognised for their innovative approach to mental health services. The LPCs, shortlisted in categories such as "Commissioning for Patient Experience," "Engaging and Championing the Public," "Partnership Working," and "Using Insight for Improvement," exemplify their commitment to reshaping patient care pathways and fostering co-production in mental health service delivery. Initiatives like EmpowerED and Level Up demonstrate the LPCs dedication to providing person-centred care, enhancing patient experiences, and redefining mental health service delivery through collaborative and transformative approaches.
CWP's recognition as finalists in eight PENNA categories demonstrates the commitment to elevating patient experience, fostering collaboration, and continuously improving healthcare delivery. These nominations reflect the organisation's dedication to innovation and patient involvement.
For further information about the Lead Provider Collaboratives, EmpowerED, and Level Up please visit www.empowerednw.nhs.uk / www.levelupcm.nhs.uk.
The winners of the PENNA awards will be announced at the awards ceremony Thursday 28 September 2023, at the University of Birmingham.
For more information about CWP and their initiatives, please visit their official website at www.cwp.nhs.uk.