Friday 12 May 2023 is International Nurses' Day! The day celebrates the amazing contributions nurses make across the globe and coincides with the birthday of Florence Nightingale.
This year's theme is 'our nurses, our future'. Below you can view some inspiring career stories from some of our #TeamCWP nurses, why they are proud to be a nurse and what they want from nursing in the future.
I started my nurse training in 1997 at Chester University. My first post as a registered nurse was in the acute medical admissions unit at Wirral University Teaching Hospital.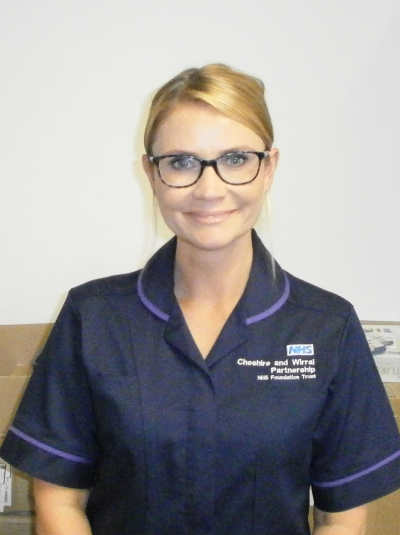 I have been a very happy and proud community nurse for the past 17 years.

It is a privilege to care for people in their own homes, when they are most vulnerable or at the end of life. Community nurses are highly skilled in clinical care, holistic assessments and person centred care plans. I am proud to be part of community nursing networks and the huge difference that our nursing speciality makes for the communities we serve.

In the future, I would like to see community nurses in senior roles within the ICB, ICS and leading within the region. It is important that community nurses are able to influence and shape the future of services in the best interests of our local populations.
My career journey
When I was six-years-old in 1977, I remember dressing up for Queen Elizabeth's Silver Jubilee in a nursing uniform, and I knew from caring for my teddy bears that this was the career I would pursue.

Whilst at high school, I saw an advertisement for student nurse training in the Army, so at Sixth Form college, after leaving a maths class early, I went to my local recruitment office and a few short weeks later, I was signing an oath of allegiance to Her Majesty Queen Elizabeth in Liverpool city centre. I was 17 years old, about to become an adult, as I left on the train bound to Aldershot with my iron and my suitcase.

After three or four years student nurse training (delayed due to the Gulf War), I qualified as a registered general nurse (RGN) at certificate level, serving in a variety of roles from medical centre work overseas, including Cyprus and Gibraltar (delivering babies, applying stitches for service personnel and diving medicals), to deployments in the Army and civilian hospitals in the UK in intensicve care, coronary care, surgery, rheumatology and rehabilitation, to name a few. Manual handling, infection control and quality assurance posts were amongst many of my accomplishments. I gained the dizzy heights of Corporal.

Leaving the Forces in 1999, as medical nursing was what I loved, I joined the Coronary Care Unit at the Countess of Chester Hospital, gaining my Diploma of Higher Education in nursing before moving on in 2004, to develop a nurse-led heart failure service in Ellesmere Port and Neston. Part of my role was to undertake the clinical management of Chronic Heart Failure (master's level at Glasgow University). I was also given the opportunity to undertake the long-term condition pathway, obtaining qualifications in long-term condition management, clinical examination and clinical diagnostic before I transferred some of my qualifications from degree level to access my master's pathway to the University of Chester, where I was supported to obtain an MSc in professional practice with merit in 2018, following a year-long research project.

The reason I love nursing is because I play a vital role in preserving and enhancing the life of a patient with chronic heart failure and assisting their families and carers. I am an advocate for patients and for my fellow colleagues.

My career aspiration is to become a nurse consultant in my chosen field of specialist nursing, or move into education or an area that enhances both patient and staff experience. I have many interests of nursing due to my generic background and feel if the right opportunity came along, the transferable skills that I've gained in the community through Cheshire and Wirral Partnership would help me greatly.