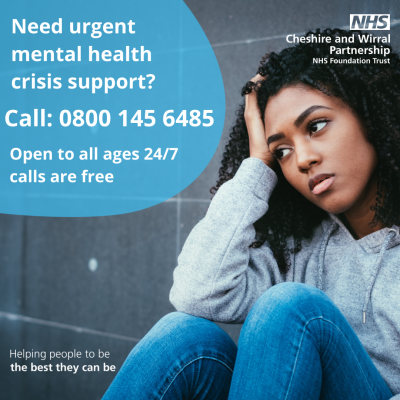 Cheshire and Wirral Partnership NHS Foundation Trust are urging Cheshire and Wirral residents to take care of each other this Christmas period and access support when needed.  
CWP chief executive Tim Welch said: "The festive period is a joyful time for many as families and friends come together to celebrate. However, it is also a time for great compassion and to support each other through hard times. For some people, this time of year can be a struggle. You are not alone, mental health support if available to you. Please reach out if you or a loved one need help."
In Cheshire and Wirral there are a number of support options available for people who are finding it difficult to cope.
Talking Therapies services –– offer support for issues such as depression and anxiety. Find details of your nearest service at: www.nhs.uk/help 
 
Crisis Cafes -  Café 71 is based on St Anne Street in Chester, Crewcial is available on Partridge Close in Crewe and in Macclesfield there is the Weston Hub is based at the Weston Centre in Macclesfield. Companeros is based in the heart of Birkenhead on Price Street. 

Crisis Cafes provide safe spaces for people aged 18 and over struggling with emotional distress. They offer a welcoming environment for people to connect with others who are experiencing similar problems. 


 

The Shout text messaging service is available for anyone who would rather not speak to someone face-to-face or pick up the phone. Offering total privacy, and available 24/7, it is operated by trained volunteers, who will provide free and confidential support. Text 'BLUE' to 85258 to start a conversation.


 

For some people if your mental health gets worse and you feel you are unable to cope, this is a mental health crisis. It is important to access support quickly. The CWP urgent mental health crisis line supports people to access the help they need and is here to help 24 hours of the day, 7 days a week, including Christmas Day. Call 0800 145 6485.


 
More information is available on the Trust website here: www.cwp.nhs.uk/crisis
Tim continues: "On behalf of the Trust, I would like to send warm festive wishes to everyone and pay particular tribute to our outstanding staff who continue to go above and beyond to provide outstanding care.
"We are here for anyone who requires support over the festive period so if you feel you like you need help – please do reach out."