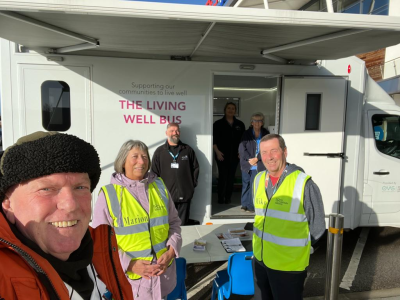 A mobile health and wellbeing service aimed at improving health outcomes for seldom-heard communities has been shortlisted for a national partnership award.
Cheshire and Wirral Partnership NHS Foundation Trust's (CWP) Living Well Service, which provides targeted health and wellbeing clinics across Cheshire and Merseyside, has been nominated in the Estates Optimisation Project of the Year at the HSJ Partnership Awards 2023 in recognition of its achievements to date addressing key health inequalities.
The service, which identifies areas where health outcomes are poorer or engagement with other support is lower, works alongside communities to provide vital health and wellbeing support that best meets their needs.
Operating as a drop-in service on specially designed clinic buses, Living Well provides a broad range of physical health checks, mental wellbeing support and COVID-19 vaccinations. The service can also connect people with other local services such as help with finances, social care, diet and lifestyle.
Find out the latest timetables for the service here.
David Pearson, CWP's Senior Responsible Officer for the Living Well Service, said: "The Living Well Service is built on the principles of listening to under-served communities and meeting their needs by bringing the right services to them.
"The way this service has been embraced by the populations we serve as well as partners across the health and care system has been fantastic and I'm delighted that this innovative and person-centred way of working is being recognised."
The service, commissioned by Cheshire and Merseyside's Integrated Care System across all nine local council areas, recognises and engages with communities most in need of targeted in-reach. Since mobilising across Cheshire and Merseyside in June 2022 (following a successful pilot in Cheshire) the service has run 295 focused clinics in areas of high deprivation, ethnic or social diversity, faith settings, supported living settings for homeless, refugees or asylum seekers, mental health support groups and services for people with a learning disability, sensory disability, or autism.
Jayne Wood, director of vaccine and testing operations, NHS Cheshire and Merseyside, said: "This service has demonstrated superb partnership working and is an excellent example also of system-wide working. Ensuring services are shaped by the needs of our population is so important and this is at the heart of Living Well Service's vision."
CWP director of operations, Suzanne Edwards said: "On behalf of CWP, and in conjunction with our partners, I would like to congratulate the Living Well Service for being shortlisted for such a prestigious national award. The service would not be possible without the excellent links we have with our partners from across the region and we are proud of our integrated approach to improve outcomes for local communities."