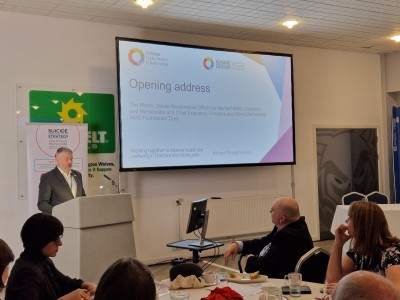 A host of health sector partners from across Cheshire and Merseyside came together on Tuesday 15 November to launch the 2022-2027 suicide prevention strategy for the region.
Hosted by the Champs public health collaborative, the strategy was launched at a special event in Warrington, attended by over 100 people. Attendees came together from across the NHS, public health, voluntary community and social enterprise sectors to network, learn and listen to the accounts of mental health experts and those with lived experience of mental health services.
CWP chief executive Tim Welch gave an address at the start of the event in his capacity as Senior Responsible Officer for mental health in Cheshire and Merseyside.
He said: "In both my roles I am acutely aware of the importance of ensuring the right mental health and wellbeing support for people in crisis. That it is provided at the right time and we have to work with partners to resolve the causes of poor mental health."
In addition to Tim, Joe Ackland from CWP-commissioned Wirral Crisis Café, Companeros, shared details of how their service has helped so many local people experiencing mental health problems.
Tim concluded his open address outlining the future: "We know that there are challenges going forward, but together we can work collaboratively to improve services," he said.
Tim's opening address is available below.