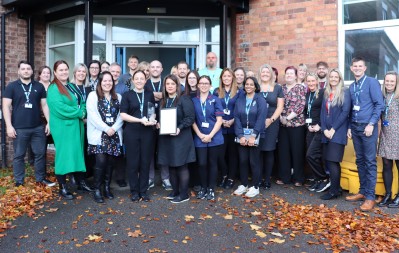 A local NHS mental health team, that provides support for some of the most vulnerable people in our society, has won a national award for the quality of their care.
Cheshire and Wirral Partnership NHS Foundation Trust's (CWP) Mental Health Intensive Support Team (MHIST) recently picked up the Team of the Year (Working Age Adults) prize at the annual Royal College of Psychiatry (RCPsych) awards – held in London. The success also followed on from picking up Team of the Year at the Patient Engagement Network National Awards (PENNA) in October.
The award-winning team provides rehabilitation services for people with complex needs. The highly specialised team specifically support people with their transition from hospital to living back at home in their own communities.Jo Watts, associate director of operations for specialist mental health said: "On behalf of the Trust I would like to congratulate the team on their success. This is the culmination of all the fabulous work that the team do to support people to live their lives in the least restrictive environment. This supports better outcomes and most importantly, a better quality of life for people accessing the service."
MHIST have a number of stated aims including; to meet the needs of the local population, improve quality of care and improve patient experience by reducing the need for readmittance to hospital. The clinical model was developed in collaboration with Liverpool John Moore's University and was informed by feedback from patients, carers and staff. The team are made up of a range different health professionals including psychiatrists, mental health nurses and occupational therapists, among others.
Among their outcomes for those accessing the service are; a reduction in people detained under the Mental Health Act, a reduction in out of area placements, an increase in people in employment or full-time education, and over 60% of people supported by MHIST are living independently in the community.
Tina Hawthorne is a former CWP service user who now works for the team as a Peer Support Worker. She said: "The MHIST team have really built that bridge between the hospital and home that is really needed within adult mental health services – as it can be a challenge moving out of hospital. I wish a team like this had existed sooner and it feels like we're shutting any "revolving door" that may exist where people repeatedly need inpatient support."
Louise Gill, head of clinical service – complex care, said: "I'm really proud to lead the MHIST team, it's great to see such positive outcomes, great teamwork and lots of collaborative working. We always try to share our expertise with others and it is really great to see the team acknowledged in this way for all of their hard work and support they provide to vulnerable people."
Jo continued: "I'm delighted to celebrate with the team for all of their hard work and the well-deserved accolades they have received. I just want to say a huge thank you to them all for their contribution to helping people within our community."